Samantha's Holiday Set was introduced to Samantha's Collection in 2014. Retail cost is $64.
Dress
Tights
Boots
Hairbow
Tea Tray
Teacup
Saucer
Teapot
Petit Fours
Trivia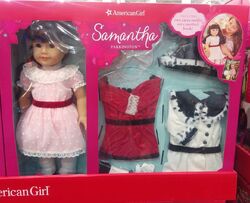 A modified version of the dress was released as part of a Costco exclusive bundle that included the Samantha doll, the Fancy Coat Set, and Manners and Mischief for $119.99. In this version, the dress is not plaid, instead of a plain cranberry taffeta similar to the original Cranberry Party Dress, and the sleeve cuffs are not lined with white fabric. The shoes are also not included.
See Also
Ad blocker interference detected!
Wikia is a free-to-use site that makes money from advertising. We have a modified experience for viewers using ad blockers

Wikia is not accessible if you've made further modifications. Remove the custom ad blocker rule(s) and the page will load as expected.