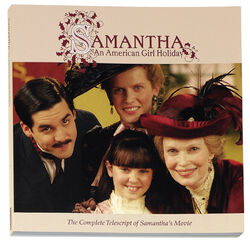 Samantha: An American Girl Holiday: The Complete Telescript of Samantha's Movie is a telescript about Samantha's movie, Samantha: An American Girl Holiday.
Script/Movie Differences
The dialogue for the minister is much longer in the telescript regarding both Gardner and Cornelia's vows; there is also additional dialogue about the blessing of the rings during the wedding ceremony. The exchange of vows was truncated in the movie, and the dialogue about the blessing of the rings was excluded.
Gardner and Cornelia's discussion about installing a shower at their home and Admiral Beemis's courtship with Grandmary is placed right after Gertrude forces Mrs. Frouchy out of the Edwards' house in the telescript. This scene is shown before Miss Stevens' announcement about the speech contest in the movie.
Trivia
The telescript identifies a few minor and incidental characters not named in the movie:
Beatrice (Cornelia's sister and matron of honor)
Katherine and Elizabeth (the two women gossiping about Samantha living with Gardner and Cornelia after the wedding)
Miss Thomas (the woman who takes over Cold Rock House following Mrs. Frouchy's dismissal)
Ad blocker interference detected!
Wikia is a free-to-use site that makes money from advertising. We have a modified experience for viewers using ad blockers

Wikia is not accessible if you've made further modifications. Remove the custom ad blocker rule(s) and the page will load as expected.