Samantha Parkington
Talk

8
2,589pages on
this wiki
"Samantha" redirects here. For the doll, see Samantha Parkington (doll).
Samantha Parkington
Information
Full name
Samantha Mary Parkington[1]
Nickname(s)
Sam
Born
May 26, 1895
Series location
Mount Bedford,[2]
New York City, New York [3]
Series timeline
Late Summer 1904 to Summer 1907
Family
Father
Mr. Parkington (deceased)
Mother
Lydia Parkington (deceased)
Uncle
Gardner Edwards
Aunt
Cornelia Edwards
Friends and Minor Characters

Best Friend
Samantha Parkington was one of the first three Historical Characters of the American Girl Dolls, representing the Edwardian Era. Samantha was released in 1986 along with Kirsten Larson and Molly McIntire. In October 2008, American Girl announced that they would "archive"
Samantha's entire collection; she, Nellie O'Malley, and their collections would become unavailable for purchase. Many items quickly sold out. The Samantha doll sold out on Feb 3, 2009, and official archiving was on May 31, 2009. It is officially unknown if Samantha and Nellie will ever be available again after the archiving; American Girl has made no official statements about their return at this time. Samantha's books, the movie, and the two Mini Dolls remain available for purchase.
Personality and Facts
Samantha (occasionally nicknamed "Sam") is an orphan who, at the start of the series, is living with her old-fashioned Grandmary. Samantha only remembers her parents a little bit. She seeks the approval of Grandmary and does not want to disappoint her or worry her. She has been partially raised by her Uncle Gardner and he is very much a father figure in her life; she wants to please him as well and does not want to be left out of his life even after his marriage.
Samantha is curious which leads to her asking a lot of questions from the people around her and thus questioning the status quo. She can be very defiant when she feels she has been wronged. She is very interested in her parents and their lives, as they died in a boating accident when she was five years old and is compared in looks to her mother. She has a rough side such as climbing trees and feels it is very hard to be a young lady. She often thinks fancifully, such as when she believes Jessie has left to be an actress and that her uncle may be a spy. Samantha is rather bold and mischievous and playful, generally going places she should not, sneaking off, and even standing up to her mocking neighbor, Eddie Ryland. Samantha is beguiling and bursting with ideas
Samantha likes progress, new inventions, and is interested in how things are changing in all ways at the turn of the century, though it's hard for her to adjust to changes within her family, as Samantha initially felt Cornelia changed her plans in Samantha's Surprise. At times she comes off as very naive due to her sheltered life; Nellie's harder life originally served as contrast to Samantha's well to do life. She is also very giving, having given up her doll to Nellie soon after getting it as well as giving her time to help her become better at school. She does not think this is merely helping a poorer person and sees her as a friend.
She loves to read; her favorite book is The Wizard of Oz. Samantha can play the piano, although she does not think she has much musical skill. She loves to paint and someday wishes that she could be as good of an artist as her mother Lydia Parkington. Samantha is not extremely skilled at embroidery but does good work; in her first book she completes a sampler and in Samantha's Ocean Liner Adventure she embroiders a handkerchief. She either wants to be a painter like Mary Cassatt or the first female US President. Samantha is very good at public speaking, and knows how to bring attention and persuade people of her ideas easily. She gives a speech in Samantha Learns a Lesson, and she realizes she's good at speaking. She learns that she is a great leader in Samantha's Special Talent.[4]
American Girl characterizes her as "compassionate" and "kind." and was also characterized at the American Girl Publishing site as "bright" and "generous".[5]
Family and Friends
See Also: Minor Characters in Samantha's Series
Family
Friends and Minor Characters
Books
Other Media
Movie Books
Main Article: Samantha Parkington (doll)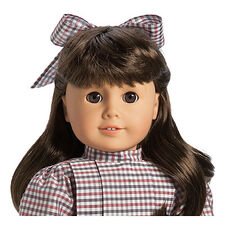 Skin: Light
Hair: Dark brown, slightly curly, bangs
Eyes: Dark Brown
Maroon checked taffeta dress
White bloomers
Black stockings
Black mary janes
Maroon checked taffeta bow
Meet Accessories
Burgundy plush hat
Gold Locket brooch
Pink Velvet clasp purse
Indian head penny
Handkerchief
Collection
Trivia
While Samantha is marketed by American Girl as from the Victorian era, Queen Victoria died in 1901 and the series starts in 1904. The series can be perceived as Victorian due to Grandmary who is very traditional in mindset; however, she does change her mindset quite often through the series, showing a change of mindsets from Victorian to Edwardian. There is always a slight overlap of eras in history; however, the attitudes, social air and issues, and fashions of the stories place Samantha more properly as Edwardian. This is especially seen in the blurring of class issues seen through Samantha and Nellie. In the Victorian Era, it was very poor form for the rich to deal with the poor in any way as possible equals or worry about concerns of their station in life, and Nellie would have most likely not been adopted by a rich family if the series was properly Victorian.
See Also
References and Footnotes
Historical Characters
1760s
1770s
1810s
1820s
1850s
1850s
1860s
1900s

Samantha Parkington

1910s
1930s
1940s
1970s