Samantha Parkington (doll)
Talk

0
2,792pages on
this wiki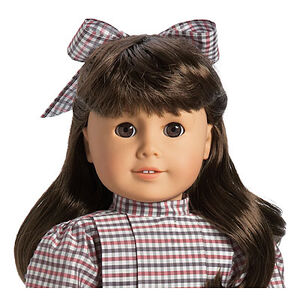 The
Samantha Parkington
doll was released in 1986, along with
Kirsten Larson
and
Molly McIntire
. They were American Girl's first three
Historical Characters
. Samantha was officially
archived
May 2009 after selling out Feb 3, 2009.
Samantha Doll
Skin: Light
Hair: Dark Brown, wavy, bangs.
Her hair is pulled into a half-ponytail in the back.
Samantha has decal brown eyes, which are different from the standard brown on most dolls. The only other doll that these have been used on is Ivy Ling.
Meet Outfit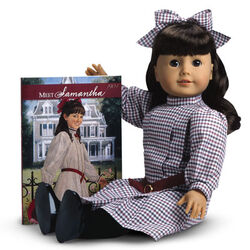 Samantha's meet outfit is an example of what girls her age and class would have worn during the Edwardian era. However, until around 1998, the only illustration of it was on the cover of Meet Samantha.
Dress
Samantha's dress is checked taffeta in burgundy, brown, and ivory. It features a dropped waist, pleated front, and burgundy satin sash. Velcros up the back and wrists.
Bloomers
White cotton bloomer-style underpants with elastic around the legs to make them puffy.
Stockings
Long black ribbed tights. Though the official descriptions call them 'stockings,' these are full tights which are worn under her underpants. Technically she would have worn garters and stockings; this is demonstrated in her Lacy Whites.
Shoes
Black plastic slip on Mary Jane style shoes. Her shoes are identical to Molly's. In the books, Samantha wears high button black boots most of the time; she is rarely shown wearing Mary Janes, as they were just starting to become a style of children's shoe.
Hair Bow
Wide taffeta bow made from the same material as the dress.
Meet Accessories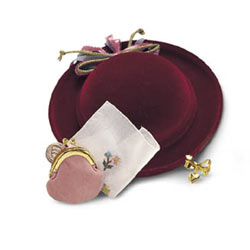 Hat
Burgundy faux-velvet hat with rose, dove grey, and gold colored ribbons tied into bows and allowed to dangle in the back. Samantha is generally not shown wearing the hat in illustrations and is instead carrying it in her hand; this was also true for many of the catalogs. Older hats have a rose ribbon also around the band.
Locket Brooch
A golden bow-shaped brooch with a heart-shaped locket. It comes with pictures of her mother and father to place inside and is pinned to the front of her dress.
Purse
A rose velvet clutch purse with a golden clasp and chain that slips over her wrist.
Indian Head Penny
A shiny reproduction Indian head penny, a coin used during Samantha's time. Samantha's coin was an authentic Indianhead penny until it was replaced with a reproduction penny in 1994.
Handkerchief
A white lace-trimmed handkerchief with blue and pink embroidered flowers.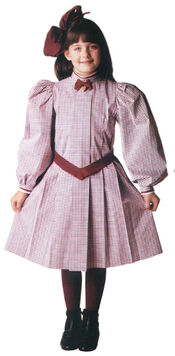 A girl-sized outfit was sold as the Afternoon Tea Dress for $80; a heart-shaped locket was sold as Samantha's Keepsake Locket for $14. These were phased out around the year 2000.
White bodied Samantha dolls have a white muslin cloth body; both Mattel and Pre-Mattel Samanthas have matching cloth bodies.
Most of the White Body Samanthas have lighter brown and curlier hair; Some have darker brown hair that is long. Mattel dolls have darker hair that is more wavy than curly and a little shorter. PM dolls transition between the two.
Trivia
While Samantha is marketed by American Girl as from the Victorian era, Queen Victoria died in 1901 and the series starts in 1904. There is always a slight overlap of eras in history; however, the attitudes, social air, and fashions of the stories place Samantha more properly as Edwardian.
The pattern on Samantha's locket is identical to the pattern on Molly's, but Molly's locket is a silver necklace