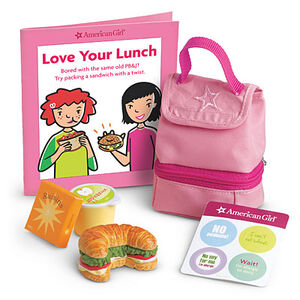 The
School Lunch Set
is a
Just Like You
accessory set released in
2009
and
retired
in
2013
. Retail cost was
$28
.
Lunch Bag
Pink zippered lunch bag. Dark pink zipper and handle. Flap has American Girl logo star.
Sandwich
Croissant sandwich with lettuce, spread, and tomato.
Applesauce
Applesauce container; white lid with sticker ("Applesauce" on apple half) and yellow container.
Raisin Box
Orange raisin box. "Raisins" over sunburst.
Allergy Stickers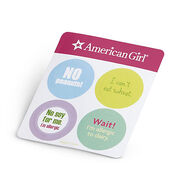 Sheet of four allergy stickers:
"NO peanuts!" (light blue, white box text)
"I can't eat wheat." (yellow-green, dark green print script)
"No soy for me. I'm allergic." (White and lavender with red and green text)
"Wait! I'm allergic to dairy." (light green with red and cream text)
Pamphlet
"Love Your Lunch": Pamphlet on making different, healthy sandwiches.
Ad blocker interference detected!
Wikia is a free-to-use site that makes money from advertising. We have a modified experience for viewers using ad blockers

Wikia is not accessible if you've made further modifications. Remove the custom ad blocker rule(s) and the page will load as expected.