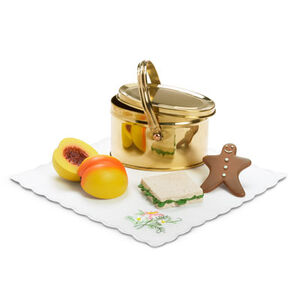 School Lunches are accessories that are part of each Historical Characters School Collection. Each School Lunch generally consists of food (a main meal component, a fruit or vegetable, and a dessert), a handkerchief or napkin, and a container to carry the food in. A great many of these sets are retired.
Kaya does not have a specific school lunch due to her Native American culture, but Kaya's Foods can be considered as such loosely.
List of School Lunches
Footnotes and References
↑

This set is centered more on the tea lesson Felicity has than on general lunch food.

↑ This set also includes School Supplies.
Ad blocker interference detected!
Wikia is a free-to-use site that makes money from advertising. We have a modified experience for viewers using ad blockers

Wikia is not accessible if you've made further modifications. Remove the custom ad blocker rule(s) and the page will load as expected.