The
School Suit and Blouse
(also known as
Addy's School Suit and Blouse
) was introduced to
Addy's Collection
in
1993
and was
retired
in
2006
. The outfit is associated to the story
Addy Learns a Lesson
. Retail cost was $22.
Blouse
White high necked long-sleeve blouse with puffy dropped sleeves. Decorative lace on sleeve cuffs and collar, decorative tucks at front, and bow at collar. Velcros up the back and at wrists.
Skirt
Blue wool calf length skirt with lining at waist band and waist tucks. Black flat trim at waistband and hem. Velcros up the back waist.
Jacket
Cropped blue wool jacket with black flat trim. Different linings at back and sleeves to mimic that Momma used different linings to line the jacket. The sleeves of the blouse are intended to peek out past the hem of the jacket sleeves.
Medal
Small bronze medal with functional pin. Has the text "Millions for Freedom, not one cent for slavery" and "1863" on the front of the coin. The statement is a real quote from U.S. Congressman Martin F. Conway on December 5, 1861, and was a running slogan of the Republican Party.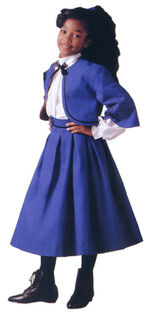 The matching outfit was available as the School Suit; it was phased out around 2000.
Trivia
The outfit is based on a popular fashion of the time, the Garibaldi blouse and Zouave suit.
This outfit was shown under Addy's Winter Coat in catalogs and on the website until its retirement, when it was replaced with Addy's Tartan Plaid Dress.
See Also
Ad blocker interference detected!
Wikia is a free-to-use site that makes money from advertising. We have a modified experience for viewers using ad blockers

Wikia is not accessible if you've made further modifications. Remove the custom ad blocker rule(s) and the page will load as expected.