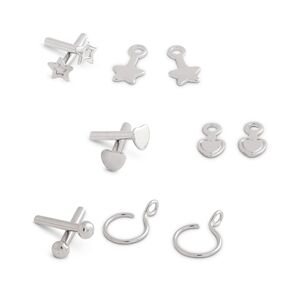 The Silver Star Earrings (also known as the Classic Silver Doll Earrings) are a My American Girl accessory set released in 2008 when American Girl began offering ear piercing services at the American Girl Hospital, and retired in 2015.
The earrings were never made available as a separate purchase outside the Hospital. In 2015, the set was offered as the Silver Earrings for a discounted price of $5.
Ball Studs
Silver round studs.
Heart Studs
Silver heart studs.
Star Studs
Silver star studs (similar to the American Girl Logo stars).
Hoop Earrings
Silver circular danglers.
Heart Earrings
Silver heart shaped danglers.
Star Earrings
Silver heart shaped danglers.
See Also