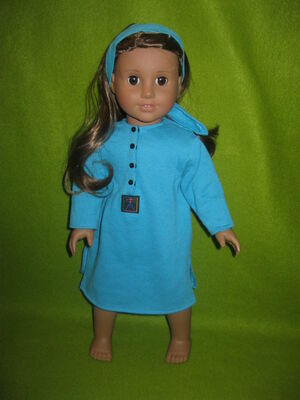 The Slumber Shirt was a American Girl of Today outfit released in 1996 and retired in 1998. Retail cost was $18.
The outfit was similar to a prior version sold the year before and now more closely matched the one sold for Miss AG Bear.
Nightshirt
Teal long sleeved fleece sleeping shirt. Wrist length sleeves. Square bottom hem with side slits. Snaps down the front; decorative black buttons over the snaps. American Girl logo patch below the front snap placket.
Headband
Teal fleece headband.
Book
A miniature copy of the book Games and Giggles.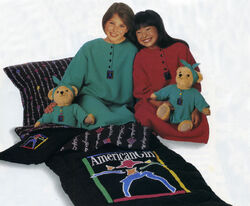 The girl's nightshirt was available in both red and turquoise for a cost of $26.
Ad blocker interference detected!
Wikia is a free-to-use site that makes money from advertising. We have a modified experience for viewers using ad blockers

Wikia is not accessible if you've made further modifications. Remove the custom ad blocker rule(s) and the page will load as expected.