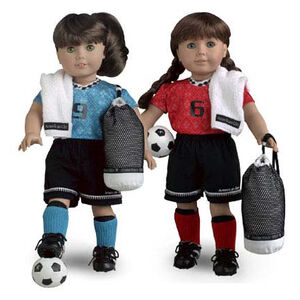 The Soccer Outfit is a Just Like You outfit released in 2001. The outfit came in two separate colors, blue and red; the red outfit was retired in 2003 and the blue outfit was retired in 2004. Retail cost was $24.
Jersey
Blue/Red soccer jersey. Black number on front: blue jersey had 9, red has 6. Checkerboard trim at neckline.
Shorts
Black soccer shorts. White band at cuffs. American Girl logo on left leg.
Socks
Blue/Red Socks.
Shoes
Black soccer cleats.
Shin Guards
Two black shin guards.
Ball
Soccer ball.
Towel
White towel; American Girl logo patch.
Bag
White drawstring duffel bag. Black mesh decoration.
See Also
Ad blocker interference detected!
Wikia is a free-to-use site that makes money from advertising. We have a modified experience for viewers using ad blockers

Wikia is not accessible if you've made further modifications. Remove the custom ad blocker rule(s) and the page will load as expected.