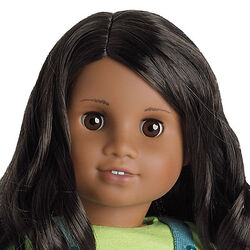 The
Sonali Matthews
doll was released in
2009
as a companion to
Chrissa Maxwell
, and was available for only one year before
retirement
. She was considered part of the
Girl of the Year
collection for
2009
.
Sonali Doll
Skin: Dark
Brows: Feathered
Hair: Very dark brown, waist length, left side part, no bangs, highlights, long, loose curls
Eyes: Dark Brown
Meet Outfit
Sonali wears her meet outfit on the cover of Chrissa Stands Strong. In that book, she wears the dress to the anti-bullying party at the end of Chrissa's stories. In the movie, she wears the dress at the debut of the fourth grade social studies project. The outfit corresponds with Gwen's meet outfit and Chrissa's Sundress.
Tee
Lime green t-shirt with cap sleeves. Velcros up the back.
Tunic
Aqua knit tunic with two pockets and straps that close with real buttons.
Knickers
Denim knicker pants with floral stamp on the right leg. Knickers have a fake fly and stitching to show pockets, but no real pockets; however, this is hidden when wearing either shirt over them.
Shoes
Blue ballet flats with light blue bow and a low heel.
Panties
Lime green panties with flower on hip and aqua topstitching.
Book
Sonali came with the book Friends.
Trivia
In both the book and movie, Sonali is portrayed as being fairer-skinned, with a tone closer to the "medium" skin tone used by American Girl. However, the doll has a very dark skin tone.
As of 2015, Marisol Luna, Jess McConnell, Sonali, and Kanani Akina have been the only Girls of the Year of color.
See Also