The Springtime Sundress is a Just Like You outfit released in 2008 and retired in 2010(?). The retail price was $28.
Dress
Lavender sleeveless sundress with a gathered knee-length skirt.
Sandals
Lavender close-toed sandals.
Necklace
Choker necklace with pendant.
Hair Clips
Two rhinestone-studded bobby pins.
Purse
Lavender purse with a white satin ribbon.
Booklet
Be Your Best: A girl's guide to manners on special days.
Dress Like Your Doll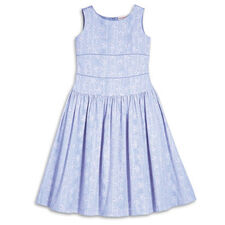 The girls' outfit was available at a price of $65.
Ad blocker interference detected!
Wikia is a free-to-use site that makes money from advertising. We have a modified experience for viewers using ad blockers

Wikia is not accessible if you've made further modifications. Remove the custom ad blocker rule(s) and the page will load as expected.