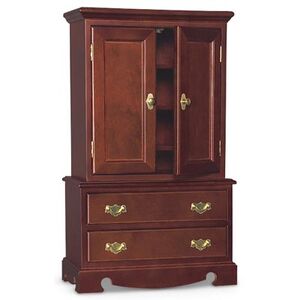 Storage Trunks and Cabinets were large items in the Historical Collections that were intended to contain a Historical Character's outfits and smaller accessories. These were based on historical methods of storing clothing and in some cases, mentioned in Central Series stories; for example, Kirsten's Trunk was designed after the trunk the family brought from Sweden, and Kit's trunk was being stored in the attic when she moved her bedroom there and she used it as storage space.
Trunks and storage was made available from the initial launch of Kirsten, Samantha, and Molly in 1986, and were generally included in the Bedtime Collections on catalog pages. When Molly and Felicity received revamps with their movie collections, each received a new storage cabinet.
In 2007, all still-available trunks with hinged lids--Kit's, Addy's, and Josefina's--were modified to have full lift-off lids.
Kaya never received a large storage trunk, and no characters after her except Julie received unique large sized storage trunks as American Girl had started to emphasize storage solutions that could be used across multiple lines. Julie's locker was generally not shown with her bedtime items and instead considered part of her school collection.
All historical trunks and cabinets were discontinued around 2012.
List of Storage Trunks
See Also
Ad blocker interference detected!
Wikia is a free-to-use site that makes money from advertising. We have a modified experience for viewers using ad blockers

Wikia is not accessible if you've made further modifications. Remove the custom ad blocker rule(s) and the page will load as expected.