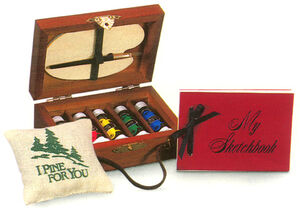 The
Summer Amusements
were introduced to
Samantha's Collection
in
1987
, revised in
1994
, and
retired
in
2001
. They are associated with the book
Samantha Saves the Day
. Retail cost was
$22
.
Paint Box
Wooden painter's box. Gold hinges and latch; attached brown cord handle with gold brads and trim. Bottom has sections for paint tubes. First edition has six sections in two three-row columns; second edition has five vertical sections in single row. Inner lid has attached elastic cord with loop to store paintbrush and palette.
Paints
Six tubes of functional watercolor paint in silver metal tubes with white caps and black labels. Colors included: Lemon Yellow, Carmine (red), Vermilion (red-orange), Viridian (green), Cobalt Blue, and Chinese White. With the 1994 revision, Chinese White was removed and tubes became slightly larger. Before retirement, tubes were changed to white plastic.
Brush
Black handled flat paint brush. Silver ferrule. Brown bristles.
Palette
Wooden painter's palette.
Pillow
Stuffed faux-buckram pine scented square pillow. Front has green print of pine trees on a hillside and capital block letters: "I Pine For You". Inner stuffing simulates pine needles.
Sketchbook
Red cover sketchbook. Bound with a thin black ribbon. Cover states My Sketchbook in script. Inner title page: "Happy Memories of Teardrop Island: Sketches and Watercolors by Lydia" (lower image: wildflowers with leaves). Inner pages have black and white images of birds, chipmunk, trees, flowers, rocks, or a picnic basket in lower right corner. Five "watercolor" images included:
Family Picnic, Summer 1897: Samantha, Lydia, and Mr. Parkington on a family picnic (lower image: picnic basket).
Baby Samantha at the split rock: toddler Samantha sitting next to a large split rock (lower image: three rocks).
Picking flowers with Father: Samantha and Mr. Parkington standing near a lake (lower image: wildflowers with leaves).
Samantha at the Waterfall, 1897: Samantha and her father wading in a pond near a waterfall (lower image: monarch butterfly on a flower ).
Good-bye to the island: Samantha on her father's shoulders near the lakeside by a canoe (lower image: water lilies).
All other pages are blank.