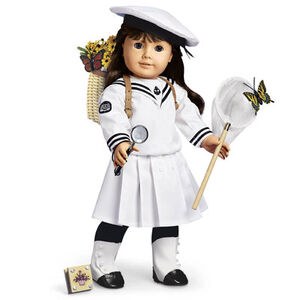 Summer Outfits
are outfits for the
Historical Characters
that are associated with the
Summer Books
, for the most part. These outfits were originally shown on the covers in the first two issues of the books.
These outfits tended to focus dominantly on lighter, more summery clothes--often in whites or lighter colors--and each set (through Kit Kittridge) also included a hat. For the first five characters, this also included the first set of new shoes in Central Series Collection order, of a new style different than the Meet outfit shoes. Initially, these came as two separate sets--the outfit, and the second pair of "summer" shoes. Felicity and Samantha's were later bundled together and sold as one; here on the Wiki, they are listed as a complete set if they were later available as such.
One Best Friend Character, Elizabeth, also received a summer outfit.
A great many of these are retired.
List of Summer Outfits