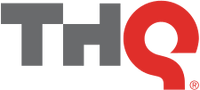 THQ (also previously known as T•HQ) was an American video game developer and publisher. Founded in 1989, the company developed products for home video game consoles and handhelds, personal computers and mobile devices. Its name derived from "Toy Headquarters" during its time as a toy manufacturer in the early 1990s. THQ had offices in North America, Europe and the Asia-Pacific region.
Besides its original properties developed by subsidiaries and external developers, the company was also known for publishing licensed content, holding exclusive agreements with Disney/Pixar, Nickelodeon and various other brands.
THQ closed its doors in 2014 owing to debt and declining stock; a number of its properties were either auctioned off or acquired by other companies, and the THQ trademark was acquired by Nordic Games, which had acquired some of THQ's properties in the auction. It renamed itself THQ Nordic in August 2016.
American Girl video games published by THQ
Links
Ad blocker interference detected!
Wikia is a free-to-use site that makes money from advertising. We have a modified experience for viewers using ad blockers

Wikia is not accessible if you've made further modifications. Remove the custom ad blocker rule(s) and the page will load as expected.