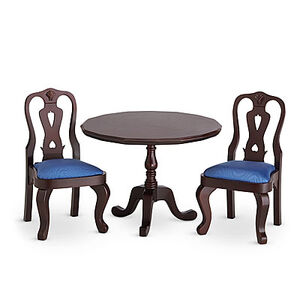 A Table and Chairs set is a Historical Character's set of furniture.
Historical furniture was initially tied to birthday stories and were seen on the covers; as sold, they consisted of a single table and two chairs based on popular trends for dining room or outdoor furniture in the era and were the centerpiece of Birthday Collections. Sets came with two chairs and for a while individual chairs could be purchased separately, allowing purchasers to add more seats without buying a full new set.
Several of these sets are now retired.
References
↑ These were a limited edition set.