The
Tea Lesson
set was introduced to
Felicity's Collection
in
1991
and was
retired
in
2001
. The items are associated to the story
Felicity Learns a Lesson
. Retail cost was
$22.
Tea Caddy
Wooden tea caddy with a hinged top and gold trim. A later version was released with Felicity's Colonial Tea Set.
Spoon
A silver spoon.
Teacup
A blue and white cup with gold trim and painted peaches. The teacup has no handles because at the time teacups were handleless.
Saucer
A blue and white saucer with gold trim and painted peaches, to match the bowl.
Napkin
White cloth napkin about 5" by 6" with a small weave print.
Queen Cake
Pretend queen cake.
Felicity's Tea Set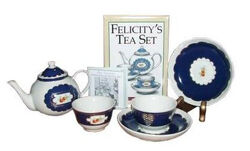 In Colonial Williamsburg from 1991 until 1998, a full size set of Felicity's tea dishes was sold. It consisted of two cup and saucer sets, a teapot, and two pamphlets about the set.
Ad blocker interference detected!
Wikia is a free-to-use site that makes money from advertising. We have a modified experience for viewers using ad blockers

Wikia is not accessible if you've made further modifications. Remove the custom ad blocker rule(s) and the page will load as expected.