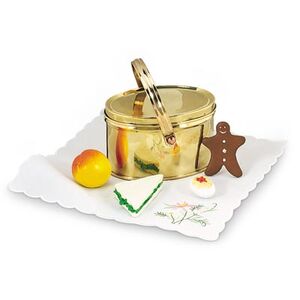 The
Tea Tin Lunchbox
was introduced to
Samantha's Collection
in
1986
, modified in
2007
, and
retired
in
2008
with her collection's archival. It is associated with the book
Samantha Learns a Lesson
. Retail cost was
$20
.
Tea Tin Lunchbox
Brass oval lunch pail with brass handle and lid. Designed to hold tea.
Sandwich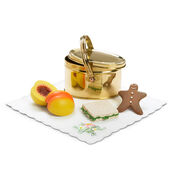 White watercress sandwich. Originally was only half a sandwich, this was made a full sandwich in 2007.
Egg
Deviled egg. This was removed in 2007.
Peach
Peach. This was later split in half.
Cookie
Gingerbread cookie. White icing for eyes, mouth, and buttons.
Napkin
White cloth napkin with scalloped edge. Embroidered floral design in corner of a pink flower with yellow center and green leaves and stems. Two versions: First version has small petite embroidered flowers, while the later version has larger and thicker embroidered flowers.
Ad blocker interference detected!
Wikia is a free-to-use site that makes money from advertising. We have a modified experience for viewers using ad blockers

Wikia is not accessible if you've made further modifications. Remove the custom ad blocker rule(s) and the page will load as expected.