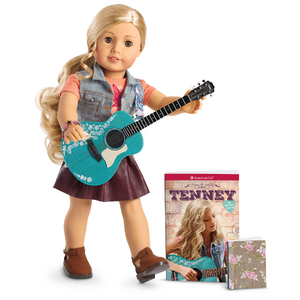 This is a list of all the items that are available for Tenney Grant.
Doll
Tenney comes with a paperback copy of Tenney.
Outfits
Accessories
Books
Activity Books
Tenney's Starter Collection
Tenney did not have a starter collection upon her debut. Customers were offered purchase of the doll, meet book, and Tenney's Accessories for a $5 Discount.
Ear Piercing
Ear piercing and a set of earrings exclusive to Tenney (and originally offered for Gabriela) are available, the Noteworthy Earring Studs:
Silver Songbird studs
Blue flower studs
Music eighth note studs
See Also
References
Ad blocker interference detected!
Wikia is a free-to-use site that makes money from advertising. We have a modified experience for viewers using ad blockers

Wikia is not accessible if you've made further modifications. Remove the custom ad blocker rule(s) and the page will load as expected.