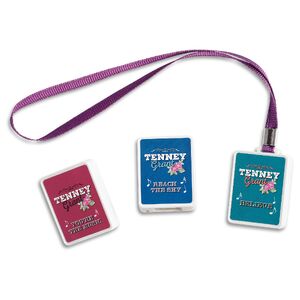 Tenney's Music Cartridge Set were introduced to Tenney's Collection in 2017. Retail cost is $10.
Cartridges
Three music "cartridges". White rectangular plastic with labels:
You're The Music (red)
Reach The Sky (blue)
Believe (green)
All have Tenney Grant's name and logo, as well as white music notes, on the front. Each contains a stereo recording of Tenney's compositions. (These are proprietary music cartridges, similar to Tiger Electronics' HitClips musical key chain cartridges.)
They will only work with with the amplifier that comes with Tenney's Stage and Dressing Room.
Lanyard
Purple grosgrain ribbon lanyard. Silver band. Attached clip which can be attached to the cartridges.
Ad blocker interference detected!
Wikia is a free-to-use site that makes money from advertising. We have a modified experience for viewers using ad blockers

Wikia is not accessible if you've made further modifications. Remove the custom ad blocker rule(s) and the page will load as expected.