"Tenney" redirects here. For the doll, see Tenney Grant (doll).

Tenney Grant is the first release of the Contemporary Characters line. She was released in 2017.
Personality and Facts
Family and Friends
Family
Ray Grant: Father
Georgia Grant: Mother
Mason Grant: Older Brother
Aubrey Grant: Younger Sister
Friends and Other Characters
Logan Everett: Bandmate
Jaya Mitra: Best Friend
Holliday Hayes: Friend
Books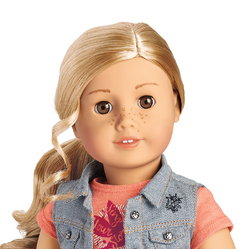 Main article: Tenney Grant (doll)
Skin: Light with freckles
Hair: Golden Blonde
Eyes: Brown
Collection
See: Tenney's Collection
Trivia
See also
References
Ad blocker interference detected!
Wikia is a free-to-use site that makes money from advertising. We have a modified experience for viewers using ad blockers

Wikia is not accessible if you've made further modifications. Remove the custom ad blocker rule(s) and the page will load as expected.