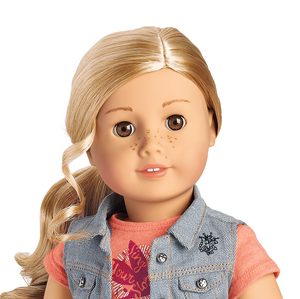 The Tenney Grant doll was released in 2017.
Tenney Doll
There are freckles across the cheek and nose as well as one to the left side above her mouth.
Hair: Blonde, long curls, left-sided part, no bangs
The doll comes with one ringlet loose and the rest pulled back in a ponytail.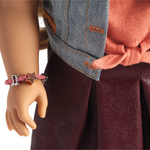 The doll has a modified right hand with slightly pinched-in fingers.
Meet Outfit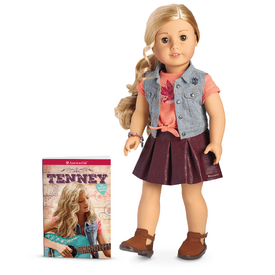 Top
Salmon colored shirt with a tied knot in the front. Printed design with a bird saying "Sing your Story".
Vest
Washed out denim vest with four small buttons to close, two pockets with the same buttons and an embroidered detail on the left side.
Skirt
Faux leather skirt.
Shoes
Two-tone ankle boot.
Panties
Light pink panties with white hemming.
Bracelet
Charm bracelet with a music note, star, and a rhinestone.
The children's outfit is available:
Tee: $28
Skirt: $38
Vest: $34
Bracelet: $16
See Also
Ad blocker interference detected!
Wikia is a free-to-use site that makes money from advertising. We have a modified experience for viewers using ad blockers

Wikia is not accessible if you've made further modifications. Remove the custom ad blocker rule(s) and the page will load as expected.