The Tenney Grant doll was released in 2017.
Tenney Doll
There are freckles across the cheek and nose as well as one to the left side above her mouth.
Hair: Blonde, long curls, left-sided part, no bangs
The doll comes with one ringlet loose and the rest pulled back in a ponytail.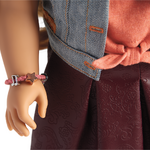 The doll has a modified right hand with slightly pinched-in fingers.
Meet Outfit
Top
Vest
Skirt
Shoes
Panties
Bracelet
The children's outfit is available:
Tee: $28
Skirt: $38
Vest: $34
See Also
Ad blocker interference detected!
Wikia is a free-to-use site that makes money from advertising. We have a modified experience for viewers using ad blockers

Wikia is not accessible if you've made further modifications. Remove the custom ad blocker rule(s) and the page will load as expected.