Ad blocker interference detected!
Wikia is a free-to-use site that makes money from advertising. We have a modified experience for viewers using ad blockers

Wikia is not accessible if you've made further modifications. Remove the custom ad blocker rule(s) and the page will load as expected.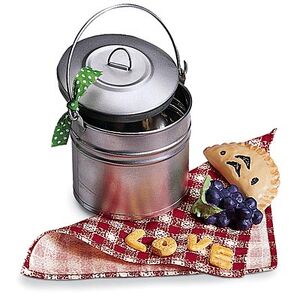 The
Tin Pail Lunch
(also known as
Addy's Tin Pail Lunch
) was introduced to
Addy's Collection
in
1993
and
retired
in
2007
(?). It is associated with the book
Addy Learns a Lesson
. Retail cost was
$20
.
Pail
Silver metal tin lunch pail. Silver attached loop handle connected to raised metal flat posts above pail body. Removable lid with silver metal loop has raised circular ridge near loop. Body of pail has two imprinted ridges near top middle. Lid has slight lip at edge to fit on top of pail body.
Ribbon
Green ribbon with white polka dots; comes tied to pail handle. Marketed as how Addy tells her pail apart from others.
Napkin
Red dark gingham square 5" by 5" cloth napkin. Cream squares on diagonal lines are dotted with black three pointed leaves. Hemmed edge.
Meat Pie
Half circle meat pie. Yellow crust, with two v-cuts and two dots on top side of crust to show dark "meat" center. Crimped edge with golden brown coloring.
Grapes
Bundle of dark purple grapes. Draped light green leaf.
Cookies
Four letter sugar cookies: L, O, V, E.
See Also