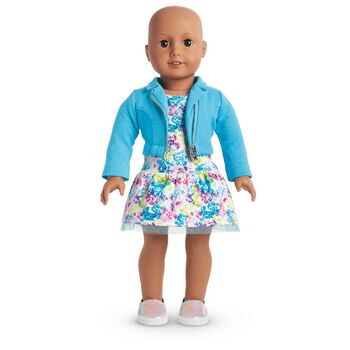 The Truly Me Outfit[1] is the twelfth and current meet outfit for the Truly Me dolls, replacing the Lilac Dress in 2017.
The male complement is the Truly Me Boy's Outfit.
Outfit
Currently this outfit is not available as a separate purchase.
Dress
Sleeveless cotton dress. Velcro goes two thirds down the back of the dress. White with blue, green and magenta print. Gathered at the waist. Blue tulle at the bottom of the skirt.
Jacket
Solid blue cotton. Pinned at the neck to make a collar. Silver zipper with star-shaped pull.
Shoes
White vinyl shoes. Textured front and bottom. Silver sparkles.
Panties
Light pink with silver trim. Some dolls have perma-panties.
Accessories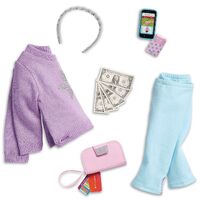 The accessories are available for purchase separately for $30 or bundled with the doll for a discounted price.
Sweater
Light purple sweater with velcro back. Sparkle star on the front.
Leggings
Light blue crop length leggings with purple detailing at the ankles. Elastic at the top.
Headband
Sparklie silver scalloped headband.
Wristlet
Light pink textured wristlet. Spots for gift and library cards and money. Room for phone and case to fit inside. Velcro latch with sparkles on the tip. Pink elastic ribbon to put over a doll's wrist.
Smartphone
Pretend smartphone with slot for screen overlays.
Phone Screens
Set of cardstock screen overlays - one showing a mobile version of the American Girl Play site and a "lock screen" resembling the one first used on iOS 7.
Phone Case
Turquoise rubber case with handle for dolls to grip on the back.
Library Card
Public library card with books on the front. Bar code on the back. Spot for name underneath.
Gift Card
Red pretend American Girl gift card.
Money
Five miniature pretend one dollar bills.
The child-sized outfit is available:
References
↑

This outfit was not given an official name; its name on this wiki is derived from the Truly Me Accessories it is paired with.