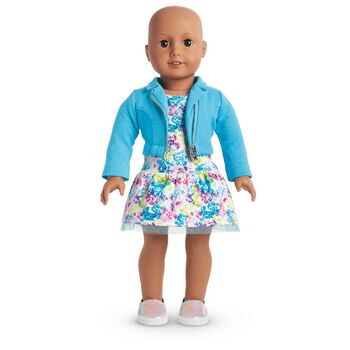 The Truly Me Outfit[1] is the twelfth and current meet outfit for the Truly Me dolls, replacing the Lilac Dress in 2017.
Outfit
Currently this outfit is not available as a separate purchase.
Dress
Jacket
Shoes
Underwear
Accessories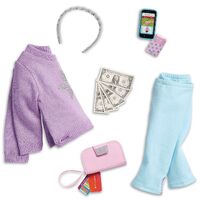 The accessories are available for purchase separately for $30 or bundled with the doll for a discounted price.
Sweater
Leggings
Headband
Wristlet
Smartphone
Pretend smartphone with slot for screen overlays.
Phone Screens
Set of cardstock screen overlays - one showing a mobile version of the American Girl Play site and a "lock screen" resembling the one first used on iOS 7.
Phone Case
Library Card
Gift Card
Money
The child-sized outfit is available:
References
↑

This outfit was not given an official name; its name on this wiki is derived from the Truly Me Accessories it is paired with.
Ad blocker interference detected!
Wikia is a free-to-use site that makes money from advertising. We have a modified experience for viewers using ad blockers

Wikia is not accessible if you've made further modifications. Remove the custom ad blocker rule(s) and the page will load as expected.