Welcome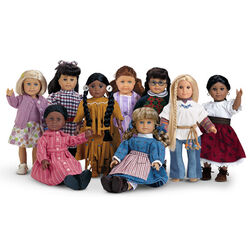 Hi, welcome to American Girl Wiki! Thanks for your edit to the Story Collections page. There's a lot to do around here, so I hope you'll stay with us and make many more improvements.
Please sign in every time you edit, so that we can recognise you!
I'm really happy to have you here, and look forward to working with you!
Please leave a message on my talk page if I can help with anything! AkaiKaze (talk) 21:36, August 16, 2013 (UTC)
Central Series: Differences and Information Over Time
I have quite a few opinion and information-wanted questions. Anyone with time, please feel free to answer.
(The questions have been removed from the talk page by admin Nethilia as they have nothing to do with the project specifically.)
Mistystar31 (talk) 05:22, October 8, 2013 (UTC)