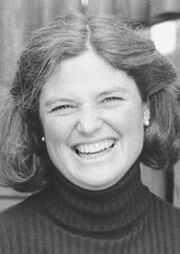 Valerie Tripp
is the most prolific author of American Girl series books.
She has written a majority of the published by American Girl, including several of the Historical Characters' and BeForever books, the Hopscotch Hill School series and the WellieWishers series.
She has a Master's of Education degree from Harvard University and lives in Silver Spring, Maryland.
Books
Good Sport Gwen
Lindy's Happy Ending
Hallie's Horrible Handwriting
Teasing Trouble
Thank You, Logan!
Bright, Shiny Skylar
The Fair-Share Pair
The One And Only Delaney
See also
Ad blocker interference detected!
Wikia is a free-to-use site that makes money from advertising. We have a modified experience for viewers using ad blockers

Wikia is not accessible if you've made further modifications. Remove the custom ad blocker rule(s) and the page will load as expected.