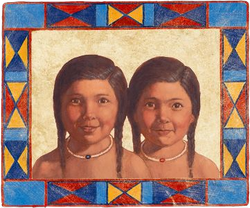 Wing Feather and Sparrow
are the younger twin brothers of
Kaya'aton'my
.
Facts
Names: Wing Feather and Sparrow
First Appearance: Meet Kaya
Family
Personality
They often get into trouble, although the blame usually falls on Kaya. They are mischievous and are four winters old.
In the Books
When raiders invade the camp, the two are picked up by Brown Deer and Eetsa as they run into the woods.
Ad blocker interference detected!
Wikia is a free-to-use site that makes money from advertising. We have a modified experience for viewers using ad blockers

Wikia is not accessible if you've made further modifications. Remove the custom ad blocker rule(s) and the page will load as expected.