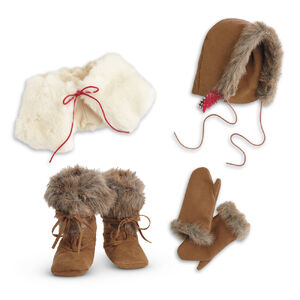 The Winter Cape and Hood (also called Kaya's Winter Accessories) were introduced to Kaya's Collection in 2002. Retail cost is $22.
Cape
White rabbit fur cape. Red straps to tie around doll's shoulders
Moccasins
Brown fur-trimmed moccasins. Gray fur trim and ankle straps
Mittens
Brown mittens with gray fur trim.
Hood
Brown fur cape with fur trim. Brown feathers on right side. Leather tie straps.
Trivia
All animal products are simulated.
Ad blocker interference detected!
Wikia is a free-to-use site that makes money from advertising. We have a modified experience for viewers using ad blockers

Wikia is not accessible if you've made further modifications. Remove the custom ad blocker rule(s) and the page will load as expected.