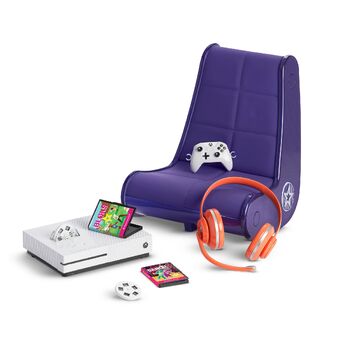 The Xbox Gaming Set is a Truly Me accessory released in 2018. Retail cost is $50.
Xbox Console
Pretend white Xbox One S console housing a projector. Left panel (where a disc slot can be found on the real console) can be removed to reveal a projector lens. Slot on the top left takes miniature slide reels with a knob to switch between slides.
Controller
Pretend white Xbox One S controller. Translucent plastic hooks clamp around dolls' index fingers for them to better hold the controller.
Gaming Chair
Purple faux leather gaming chair with integrated speaker.
AUX Cord
Black male-male AUX cord; plugs into headphone jack with 3.5mm jack.
Headset
Pretend peach-colored wireless gaming headset.
Game Cases
Two games: Blockz and Dance! Black cases with spaces to hold game reels.
Game Reels
White miniature slide reels containing staged screenshots of a blocks-type puzzle game and a Just Dance-esque rhythm game.